That is the question.
And a good one at that. Traditionally, you get a corporate job and they give you a personalized email address, a work station, and business cards. But when a company isn't providing business cards for us, do we need them?
It's a debated topic and people have opinions both for and against business cards. Almost everything is online these days, and if you have a website that you can send someone or a Facebook page you can connect them to, do you really need the paper version of that as well?
As with anything, I think that business cards have a time and a place. Here are a few instances where business cards can be highly beneficial:
1. Conferences
Showing up to a conference without business cards can actually be kind of awkward because most people will have them. Collecting business cards can be a great way to remember everyone that you are meeting at a big networking event like a conference and a great way to follow up with those people. It's also a great way to ensure that people connect with you and have a way to contact you if they want to collaborate, work with you, or just check out your offerings.
2. Turning students into private clients
When someone picks up what you're putting down in class and asks where else you teach or what else you offer, this is the perfect time to tell them a bit about what else you offer and then hand them a business card so that they can take a look at your website and have easy access to your contact information.
3. Those random times when you meet a like-minded person
Have you ever been at a restaurant or out with friends and you meet someone who would be perfect to work on a project with or to connect with in the future? These moments are the perfect time to whip out your business card to make sure that you connect later.
4. Professionalism
It certainly can't be argued that business cards can not only make us feel more legitimate, but also make our business look more legitimate. Handing a business card to someone feels really good and feels professional. It's like the cherry on top of the cupcake when it comes to setting up your business and feeling like you've done all the steps to get you to a point of making money and living your dream life.
As with all things yoga business related, it's always important to look at what you want out of your career and what your goals are. Business cards may be for, and they may not.
From here, if you decide that you want to create business cards here are the next steps to take:
Design your business cards on Canva: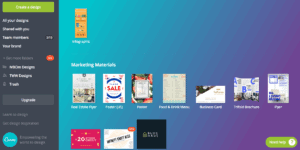 Choose the layout that will suit your business needs and begin to enter in your information to the design.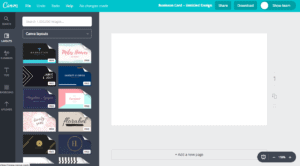 Once you have a design that you love, download it and head on over to Vista Print.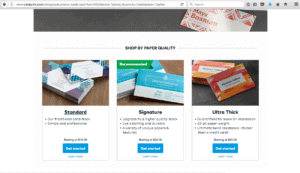 You'll have the opportunity to choose your thickness and style of card, and this will largely depend on your budget. If you're just starting out, I would recommend going for the most affordable option for $16.
Once you select your paper, you will have the option to use a Vista Print template, have them create a business card for you, or upload your own design. If you have already created your own design on Canva, then opt to upload your design.
You can continue to choose your own adventure as you make your way through the prompts on the Vista print website, deciding whether or not you want a backside to your card, and how many business cards you want. If you choose to just start with 100 cards and use a basic design, your business cards will cost you as little as $16 plus shipping, which is about $7 for standard shipping.
All in all, business cards are easy to order, convenient to have and not a huge dent in the bank account, but you should still decide if they're right for you and what you want out of your business.
Pro Tip: If your business is multifaceted, you can make one business card for your personal brand and then have the different offerings and websites on one card so that you don't have to give people a number of different business cards. And this will save you money as well, so it's a win-win option for those of us with more than one type of business!
Have a yoga business related question? Send me an email at info@mbomyoga.com!
---
If you enjoyed this post, share on Pinterest using this image!