Hey, I'm Amanda! I'm the founder here at M.B.Om.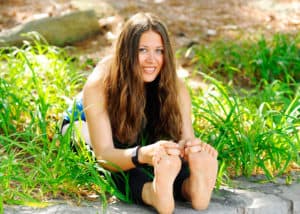 I'm a yoga teacher, business graduate, and a lover of tea, the great outdoors + travel.
After completing my 200-hour YTT, I felt confused as to what the next step in my yoga teaching career was. Obviously, it was to start teaching. But beyond that, I wasn't sure where I was headed.
If I have a business degree from an accredited school and I'm struggling with the business side of yoga, I must not be alone…
And then the light bulb went on… and with that, M.B.Om was born. 
I set out to learn from other successful yoga teachers. I've taken my textbook business knowledge and combined it with the real-life experience of other awesome yoga teachers doing badass things, and I want to share that with you.
M.B.Om, pronounced "M", "B", and then "om" is a play on words of an M.B.A. (Master of Business Administration). M.B.Om is a cooler, easier, cheaper, and far more interesting version of an M.B.A., and instead of learning "administration" (whatever that means), you will learn about yoga. More specifically, the business of yoga.
M.B.Om is a place for yoga teachers to realize their potential as entrepreneurs, to learn about the business side of yoga, and to learn how to be successful in the yoga indusry.
You may be a master at the secondary series of ashtanga yoga, but have no idea how to market yourself, network, or become a successful yogi entrepreneur. This is your place.
If you are looking to expand your offerings, branch into retreats or YTT's, open a yoga studio, or create your own unique brand, this is your place.
Before you go, be sure to check out the blog, subscribe to the podcast, and join the private Facebook community so that you don't miss a beat. Each episode features a different awesome yoga teacher from around the world, with the intention of teaching you the things you need to know to expand and grow your career as a yoga teacher.
Thanks for listening + namaste!